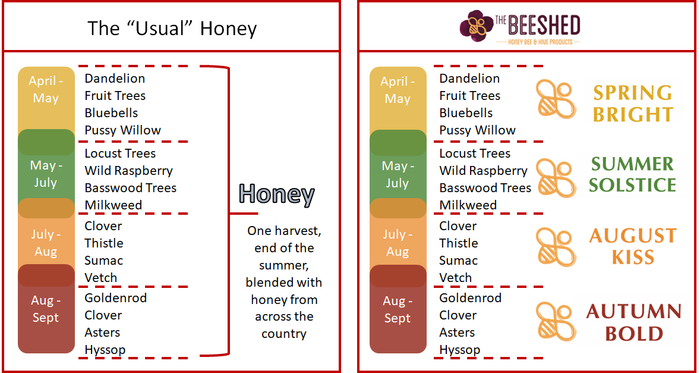 Most honey tastes the same and looks the same because it is blended from sources across the country. It is a sweet but uniform product, rather like a fast-food hamburger: predictable, momentarily pleasing, but neither memorable nor unique. 
At The Bee Shed, we take a different approach. Every flowering species blooms in distinct seasons, each producing honey with a unique flavor and scent. We work in harmony with the seasonal blooms by doing multiple harvests, each yielding honey with a Minnesota-unique flavor, scent, and color.
The proof is in the jar! Our Spring Bright, Summer Solstice, August Kiss, Wildflower Classic and Autumn Bold honey are distinctively different and memorable.
 And don't forget our signature Buckwheat Stout honey. Harvested from organic buckwheat acreage, this has a big bold flavor with earthy undertones.